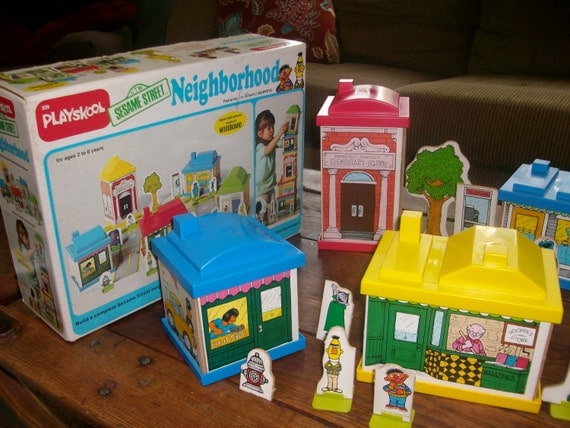 I recently noticed an auction that included some puzzletown pieces I did not recognize. Looking into the auction I found they were not actually Richard Scarry but rather Sesame street themed. Intrigued I started doing some research. Apparently in 1977 Playskool created the second round of Richard Scarry sets, as well as this Sesame Street set. The official product name was Sesame Street Neighborhood. I was able to win the auction and was told the woodboard pieces work just fine with the puzzletown grid floors. I will keep you updated when I get my package.
Here is a
link
to someone selling the toy that does a good job of describing the product. It seems to work a little differently being designed to use woodboard cut outs as the figures rather than those of the Richard Scarry sets. Sesame street uses little green feet pieces that hold the character pieces.
The houses themselves use foot and roof system. The roofs are single piece rather than build, as in the Richard scarry sets.
My original post on puzzletown can be found
HERE
I just wrote up a third post on puzzletown and you can find it
HERE
There is also a
brand new post here.